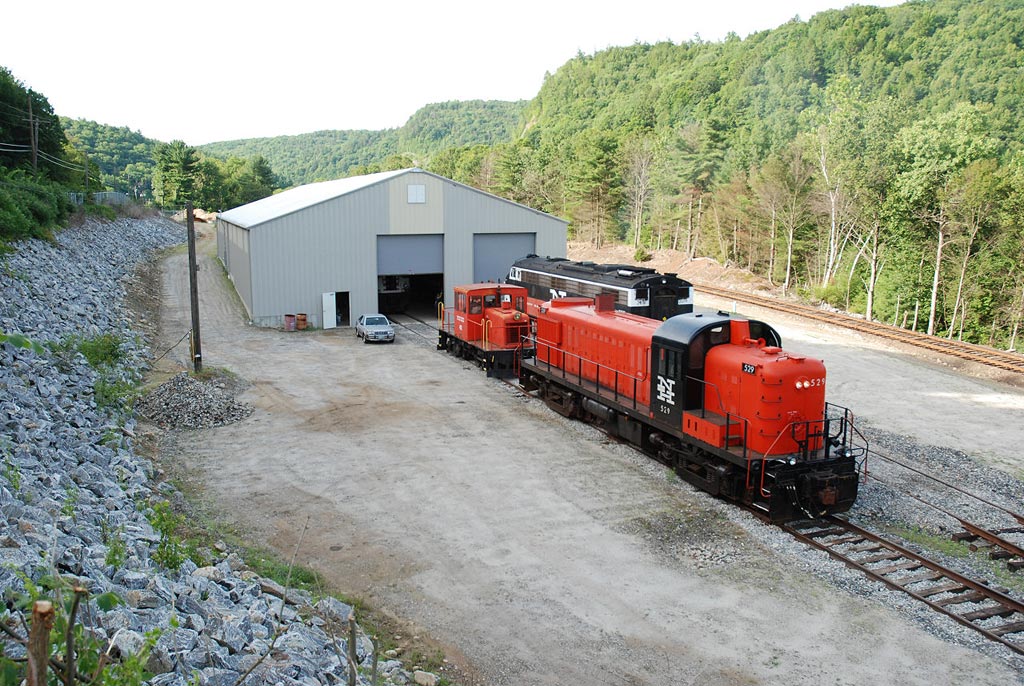 NOTICE:
Please do not bring items to leave at the shop without prior arrangements. Space is at a premium at this time, and as we develop the east side into staff offices and locker facilities, even with the current items we will have a tough time moving things about to accommodate construction. Same goes for the Thomaston Station where well intentioned individuals have flooded the gift shop with used magazines – please bring nothing to the station or shop without consulting a Board member for advice.
Air Compressor
– a heavy duty air compressor has been position along the east wall and now is in service.
"Machinery Hall"
– the machine shop area has become just that with the arrival of a number of machines including drill presses, lathes, and saws earlier this month. The machinery had been acquired through donation of the Congress Avenue property in Waterbury and held in storage for the past several years. Our expert rigger Bob Eberheim was a major player on this project.
Coach 5805
continues to see metal renewal in the north vestibule inner wall. The preparation and priming of the upper ceiling is just about complete, and the replacement of the three damaged lower ceiling panels continues. Needle-scaling of the truck frames has begun. The Car Department welcomes Kurt Wiener to the team, joining regulars Sam Walker, Jon Chase, Dan DiTullio, Howard Pincus, Brent Bette, Stan Bogacz, Win Bissell and Bill Sample.
Coach 4980
has received repairs to its lower deck roof surface, which had pulled away from the clerestory, making for some serious leakage. Weep holes were also drilled into the bottom rail for ventilation. Al Pomeroy, Howard Pincus, Hal Reiser, Matt Lawson, Jeff Fruithandler and others have been working on this project.
Locomotives
–
NH 529
has been on the passenger train recently, while 2203 gets some maintenance which included the sanding system.
NH (CDOT) FL9 2019
has been receiving maintenance and has been test-run, and the batteries that need replacement have been located. RMNE member and EMD expert Preston Cook has given the 1732's "new" 567 engine a preliminary exam and some work has begun on its overhaul. Flatcar CTVR (ex-NH) 17221 now is the home for the new Diesel engine for NH 2525 and the spare EMD 567 plus two main generators, and these items will be covered with a weatherproof enclosure.